Description
CalmTu® Night Plus is a food supplement based on extracts of Valeriana, Pasiflora, California Poppy,  Melissa and Melatonin (1.95mg). A natural formula to helps improve sleep quality and avoid problems such as insomnia. With calming properties without side effects for teh body. Also, helps you rest better thanks to its active ingredients.
CalmTu Night Plus to the slow release technology. The ingredients release in 2 stages. Melatonin, which is found in the coating and is quickly released, is a hormone produced naturally by our body and plays a very important role in the sleep induction. On the other hand, valerian, passionflower, California poppy extracts and lemon balm, found inside the tablet, are slowly released during the night, contributing to a good sleep quality. The innovative compositions of this formulas allows:
Favours relaxation before sleep and rest better during the night.
Reduces night awakenings and improve sleep quality.
Favours sleep induction and reduce sleep time.
Innovative formula that works all night
No side effects or dependency problems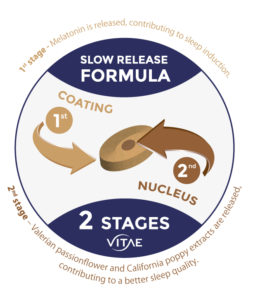 If sleep problems are occasional and you need a product with a lower dose of melatonin (1mg), you have CalmTu Night. The traditional formula for those who need a natural remedy for punctual situations.