The focus of the event comes as consumer demand means manufacturers are seeking a balance between naturally sourced ingredients and sustainably produced nutraceuticals, through the development of innovative new products, processes and packaging.
The need for greater supply chain transparency has also contributed to an increased focus on the role of contract manufacturing, presenting an opportunity for these businesses to set the standard for sourcing practices and quality.
Chris Lee, Managing Director, Global Health and Nutrition Network, Europe, at Informa Exhibitions, explained: "The move towards true circularity requires a monumental shift across the entire nutraceutical product lifecycle – from ingredient to shelf – and can only be made possible by collaboration across the entire supply chain.
"The goal of Vitafoods Europe 2019 is to get the industry talking to understand how we can create a sustainable future, as well as to inspire the nutraceutical community with trends, insights and solutions that support market-leading product development and business growth."
Vitafoods Europe is the leading buying and sourcing event for the global nutraceuticals industry. Showcasing the latest developments in nutraceutical ingredients, products, manufacturing and equipment, Vitafoods Europe enables businesses to make more informed business decisions to support future product development. Attended by a global audience across the ingredients & raw materials, branded finished products, contract manufacturing & private labelling, and services & equipment sectors, Vitafoods Europe provides multiple opportunities to engage discuss and debate the most important topics in the nutraceuticals industry.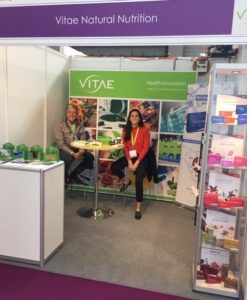 Vitae Health Innovation is a laboratory of natural food supplements with innovative formulas that try to respond to a wide range of needs with different categories: skin and mucous membrane, immune system and defences, muscle and joint care, detox / antiaging, digestive care, harmony and serenity, energy and vitality, cardiovascular health and peditarics