Musculoskeletal pain can cause a feeling of oppression of our spirit, since it hinders our movements and therefore can´t do what we want with total freedom.
Especially In the cold months it is common for this discomfort to intensify, so we have organized this lucky draw to win a pack containing all the products of our Musculoskeletal line:
FlexiVita, FlexiVita Pro, Base Vitae and Comfort Cream.
That's why we would love you to share a photo which represents a 100% the sensation of physical and spiritual freedom for you.
Freeing yourself has a reward #freeyourself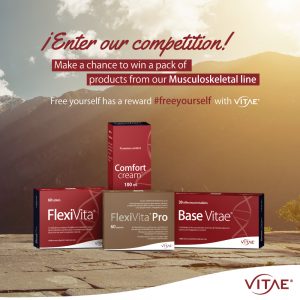 How to participate
1) Follow Vitae International
2) Upload a photo which for you represents the feeling of freedom
3) Mention @vitaeint and use hashtag #freeyourself
*Important: make sure your photo is public, if not we won´t be able to see it.
You have until February 27th!