Musculoskeletal pain can cause a feeling of oppression of our spirit, since it hinders our movements and therefore can´t do what we want with total freedom. Especially In the cold months it is common for this discomfort to intensify, so we have organized this lucky draw (#freeyourself) to win a pack containing all the products of our Musculoskeletal line:
FlexiVita, FlexiVita Pro, Base Vitae and Comfort Cream.
That's why we would love you to share a photo which represents a 100% the sensation of physical and spiritual freedom for you.
Freeing yourself has a reward #freeyourself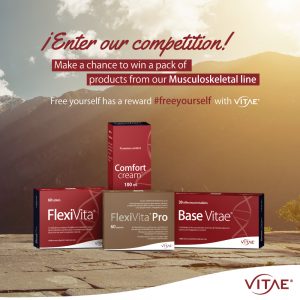 How to participate
Follow Vitae International
Upload a photo which for you represents the feeling of freedom
Mention @vitaeint and use hashtag #freeyourself
*Important: make sure your photo is public, if not we won´t be able to see it.
You have until February 27th!
Nowadays, a proper care of muscles, tendons, bones and joints is much more important due to the the modern lifestyle. Of course, age will wear out our joints and bones and that is why we need special care to avoid mobility problems. On one hand, it is recommended to strengthen joints and bones, and on the other hand, to maintain the flexibility of muscles, tendons and cartilage.  The best option to maintain musculoskeletal health is physical exercise and every day mobility. Food supplements can help to strengthen the most affected parts of the body when doing intense physical exercise. In addition, elderly people should take care of its musculoskeletal system to prevent injuries and enjoy a good health. Massage creams and gels can help muscle and tendons recovery after performing sports, relieve pain and inflammation, etc.