On September 13th, the 12th edition of The International Congress of Integrative Medicine (SESMI) started in Barcelona. This event lasted 3 days and a total of 400 guests attended, 200 of them were of international origin. Dr. Isabel Giralt was the official organizer as president of the SESMI. The program consisted of a long list of renowned health professionals.
Currently, the presence of integrative medicine is increasing throughout the world, there are more and more health professionals and patients who opt for a more 360 ​​degree vision to enjoy our precious well-being and health. The congress intended to address the main areas of interest in the field of integrative medicine.
With a very complete program, workshops, presentations, panel discussions, awards, among other things, were held.
Vitae Health Innovation attended as a collaborator with a stand where different products of the brand were exhibited. In addition, we had the honor of attending to the different activities that took place.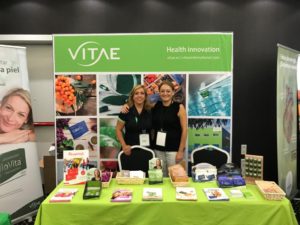 Vitae is a laboratory of food supplements and natural products. Our passion is to help maintain and improve the quality of life of each of you, to appreciate and enjoy the little things that make our day to day living. For us it is important to take care of both you and the environment, offering a relationship of transparency, respect, closeness and maximum professionalism. We also apply this to ourselves and that is why we try to work in a relaxed, pleasant and maximum companionship and in union with the environment. Above all, with the rigor and seriousness as our main values.