We have a new member on our harmony and serenity range, CalmTu Night Plus. Based on valerian, passionflower and California poppy extracts, melissa and melatonin, it helps you fall asleep and provides a continuous sleep without interruptions.
Its revolutionary formula allows the release of the ingredients in two stages in a modified, constant and sustained way throughout the night.
Thanks to the slow release technology, the ingredients are release in 2 stages. Melatonin, which is found in the coating and is quickly released, is a hormone produced naturally by our body and plays a very important role in the sleep induction. On the other hand, valerian, passionflower, California poppy extracts and lemon balm, found inside the tablet, are slowly released during the night, contributing to a good sleep quality and promoting a continuous sleep.
Compared to its twin brother CalmTu Night, CalmTu Night Plus contributes to reduce nighttime awakenings and would be more suitable for people with chronic or more pronounced insomnia and who constantly wake up during the night. On the other hand, CalmTu Night, would be indicated for people who are suffering periods of punctual stress and insomnia, since it facilitates relaxation and helps to fall asleep naturally.
Gluten free / Lactose free / Low fat content / Suitable for vegans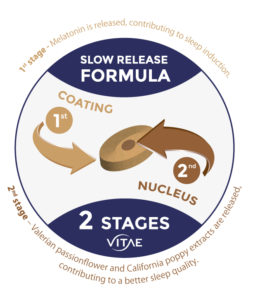 If you want to learn more about the product click here